Chapter 126
:
Tishare
|
GameFront
|
Box.net
|
Batoto
|
Discussion
|
Thank Gernot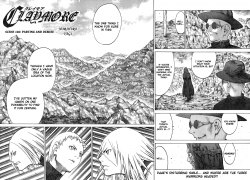 So here's the
last Claymore chapter
we will get in a while. I doubt it's
THE
END but you never know. Until we'll get some information from Jump Square editors or Yagi himself we won't know. As you've noticed there is no MF link above and that's because our MF accounts have been suspended and files deleted. Instead you can download chapter using as good file hosts as MF (I especially recommend TS and GF). We probably could use MF if we would encrypt the files, use some random names and password and did some other stuff but it requires more work than it's worth (not to mention it's bothersome for downloaders). Hence we'll be using these. If you want you can share links to MF (assuming you will post a direct link, no advertisements in the middle), there are probably some mediafiretards that refuse to use anything else :P. But to be honest these 3 links (+online readers) should suffice. No captcha, no waiting and quite decent speeds even for unregistered users should be enough to make you forget about MF.
Update:
Here's last part of a batch of our releases.
http://tishare.com/y2l8wywb32if.htm
Chapter 126th in this batch isn't of the latest version, use the links above for that.
You can download all of our releases by going here:
http://mibscanlations.blogspot.com/2012/04/batch-download-chapters-93-125-8385-86.html